The best way to distinguish a high-class hotel from discount lodging is by looking at the bathroom. When guests walk into an opulent bathroom with a luxurious shower and sparkling marble vanity tops, they know they are staying in a sophisticated hotel.
Classy hotels attract classy guests, so it's important to keep them impressed during every phase of their stay. One way is to keep the marble in bathrooms shiny and clean.
Keep reading to learn how to maintain luxurious marble tops in hotel bathrooms with Safe Step. 
Why You Need to Restore Marble Vanity Tops
When marble is shiny and pristine, it impresses even the toughest hotel critic. Sparkling marble vanity tops are luxurious, but marble tops not properly maintained look dull and unimpressive. 
The last thing you want is to leave a bad impression on your guests when they walk into the bathroom and see a lackluster marble vanity.
Plus, maintaining your marble bathroom will extend the lifespan of the vanity top, which reduces hotel expenses in the long run.
What Are the Signs That You Need to Restore Your Marble Tops?
Marble is easy to clean on your own, but you should call in professionals when vanity tops need restoration. There are several ways to determine when it's time to restore your marble vanity tops.
In general, it's a good idea to get on a routine schedule of inspecting the tops in between hotel reservations so that they always look pristine for your guests. 
1. Scratches on the Marble Tops
The number one sign that your marble vanity needs restoration is when you see scratches on the surface. Scratches occur naturally with regular use, and since your hotel has multiple guests coming in and out, you can expect more wear and tear on your marble vanities.
2. Cracks and Holes in the Marble Surface
The next sign that your marble tops are due for restoration is when you see cracks or holes. Marble is the most luxurious vanity top choice. It's also porous and weaker than other types of natural stone countertops.
Since marble is more susceptible to damage, it's vital to maintain it properly.  If you see cracks or holes in your marble, schedule a professional restoration right away before the damage gets worse.
3. Dull Marble
Finally, marble naturally loses its shine and looks dull over time. Cleaning the marble between each hotel guest will help prolong its sparkle, but eventually, you will need to schedule a professional polish to bring back the shiny look that your guests want to see. 
It's important to use a professional service to polish your marble with a professional-grade polish to keep your vanity tops shiny for a longer period of time. Plus, when you schedule regular marble polishes with the experts, they will inspect your marble for other damage that needs attention.
Here's How the Professionals Restore Marble Vanity Tops For Hotels
The marble restoration process includes several steps: sanding, honing, sealing, and polishing. 
Sanding and honing flatten out marble surfaces to remove scratches. It's an involved process that requires professional equipment and expertise to do it correctly. Once the surface is smooth again, it needs sealing to help protect it from damage in the future.
Polishing marble is the best way to bring back its shine and make it look luxurious again. You can purchase marble polish and try to do it yourself, but you should leave it to the professionals for the best results.
Polishing can be done after the sanding or honing process or as a stand-alone treatment. If your marble vanity tops don't have scratches but the surface looks dull, a polish treatment is all you need to make it look pristine. 
Safe Step Restores Marble For the Top Luxury Hotels in America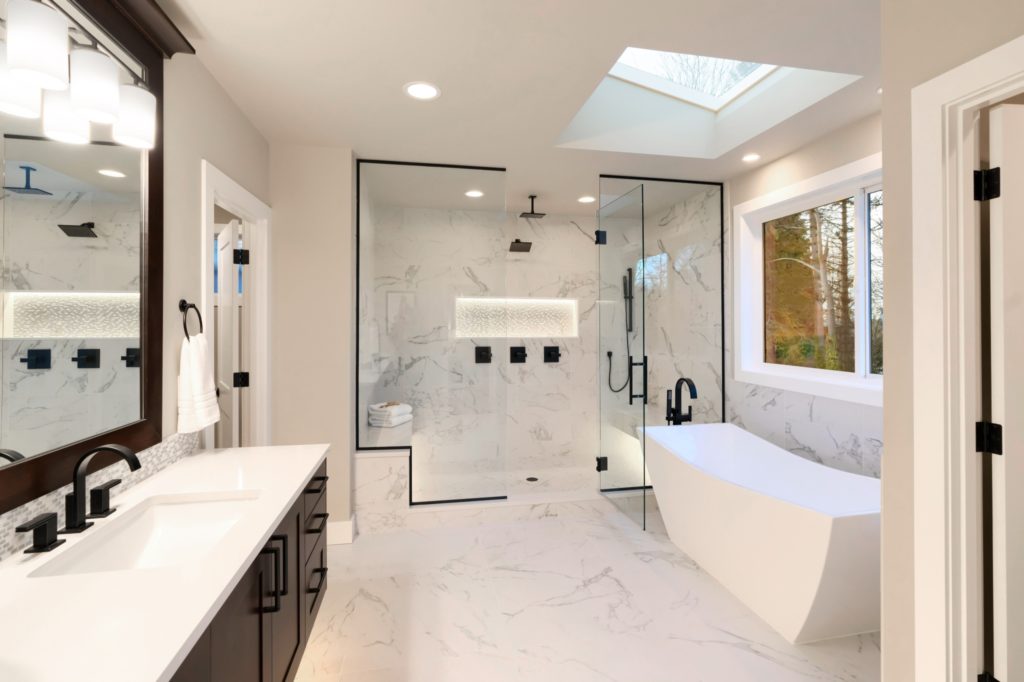 If you want your marble vanity tops to shine like the highest-rated hotel bathrooms in the country, trust Safe Step to restore and refinish them for you.
Safe Step is an industry leader in commercial bathroom treatments, and our top clients include the Hilton, Marriott, and IHG hotel groups. 
With twenty years of experience under our belt, we strive to make every client happy so that they can impress their hotel guests. Along with bathroom vanity tops, we also restore showers, bathtubs, tile, grout, and caulk.
We prioritize sustainability with everything we do. Our innovative processes follow the correct safety procedures and incorporate environmentally-conscious products.
There's a reason that the top worldwide hotels trust Safe Step with their bathrooms. It's because our expert technicians deliver the best service that keeps both the hotel management and guests happy.
Restore Your Marble Vanity Tops With Safe Step
Are your commercial marble vanity tops starting to look dull or scratched? Don't delay in getting them professionally restored. Your guests expect a luxury experience at your hotel, and the best way to ensure their approval is with a spa-like bathroom experience.
Safe Step can take care of all of your bathroom restoration needs, from the marble vanity to the bathtub cover. We're the industry leader in commercial bathroom services and the top choice among the most prestigious worldwide hotel groups.
Request a quote from Safe Step today to schedule your bathroom restoration.